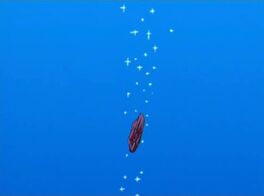 The Dream-seeing Stone or Dream Stone for short is a stone that make the dreamer's dream come true. In Episode 32, Lucia found it washed up on the beach and took it home with her. That night she dreamt that Rina, who claimed to be "Lady of the Lake", gave her a pair of signed Jennifer Houston sneakers and the next morning it came true. When Hippo found it next to Lucia's pillow he stated that Dream stones are found in deep parts in the ocean and that it was rare for one to get washed up on the beach. Later Hippo delightedly drops the Dream Stone back into the sea where it belongs.
Appearance
The stone is red and its shape is like an irregular, sparkling crystal. When it is put next to the sleeper's pillow the stone will glow bright showing the dreamer's dream that will later come true after the dreamer wakes up.
Community content is available under
CC-BY-SA
unless otherwise noted.